Global Azure Bootcamp Roma 2018 – Internet of Things: dai sensori al cloud
Sabato 21 Apirle, Roma, Luiss Enlabs. Un fantastico scenario per la tappa capitolina del Global Azure Bootcamp.
Evento mondiale dedicato alla piattaforma di cloud computing Microsoft Azure, questa tappa è stata organizzata da diverse community in collaborazione con Microsoft: DotNet Abruzzo, dotNetPodcast, DomusDotNet e DotNetCode.it.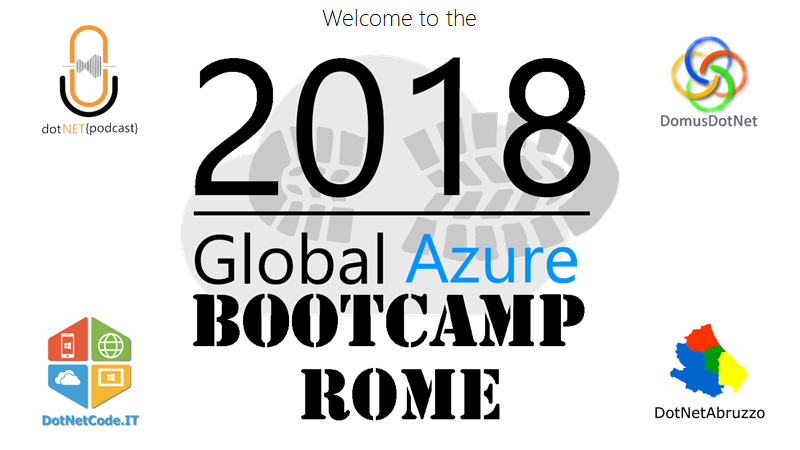 È stata una bellissima occasione per fare newtwork e per vedere quanto lontano possano spingersi le varie community nell'organizzazione di fantastici eventi. Per quanto riguarda l'organizzazione, mi sento anche di ringraziare Luiss Enlabs e Codemotion che hanno fornito supporto organizzativo nella realizzazione dell'evento.
The power of #Community #friendship #neverstoplearning

Great day! Thanks everyone!#GlobalAzure #GABRome18 pic.twitter.com/4NsBuBQ5XM

— Andrea Benedetti (@anBenedetti) 21 aprile 2018
È stata una giornata fantastica e ho avuto modo di parlare di un tema a me molto caro, quello dell'Internet of Things e dei sensori, con una sessione dal titolo "Internet of Things: dai sensori al cloud".
In questa sessione si parte da panoramica del mondo IoT: perché è importante conoscerlo e quali sono gli scenari d'uso. Successivamente si mostrano i modelli di architetture cloud (on premise, IAAS, SAAS, PAAS) per poi passare ad illustrare cos'è e perché scegliere Microsoft Azure, infine si fa una panoramica dei servizi di Azure dedicati al mondo dell'IoT.
Non posso assolutamente esimermi dal ringraziare anche tutti gli sponsor che ci hanno sostenuto economicamente e logisticamente.
Qui il link a SlideShare all'interno del quale potrete trovare il materiale presentato.
Grazie a tutti e al prossimo grande evento! 🙂
#GabRome18